Diaclone blitzwing.....two varaiations...
...and one damn good fake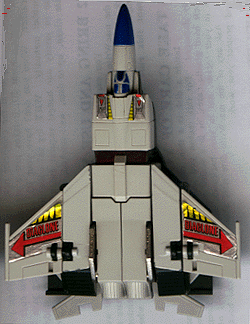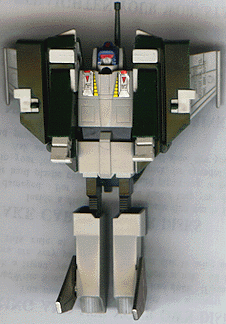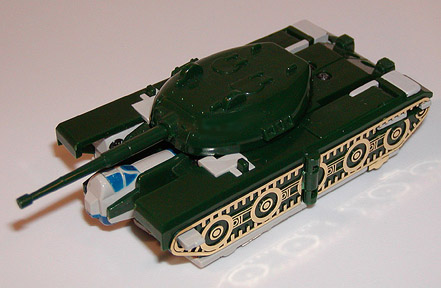 ---
This is a Diaclone Blitzwing. Its colors are mainly grey and green. As you can see it has Takara markings on the inner wing. The toy has fully firing missiles and looks extremely nice. It's weapons were a sword, gun and 3 missiles.

Collection of: Alex Bickmore
Paragraph: Alex Bickmore
Photos: Alex Bickmore
-= The Fake =-

The Fake Diaclone Blitzwing is exactly like the "grey" Diaclone Blitzwing. It has plastic and painted metal parts that is so perfect that it would fool anyone. It even has Diaclone stikers. The "Fake" Diaclone Blitzwing can be easily found by four different ways. First one is easy, it has no Takara markings on the wing. The second thing is that it has no missile capabilities as seen compared to a Diaclone one. No hole to place the missile in. (above)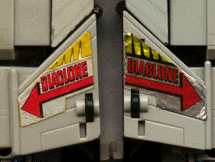 The third is their are no buttons to fire the missiles, since it was not meant to fire missiles. The fourth is that even though it has Diaclone stickers on it is missing the black outlines above the word Diaclone. (above)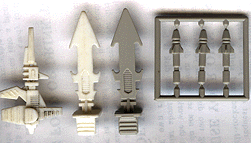 There also seems to be two different types of Diaclone Blitzwings. One as you can see is more "white" than the other. The white one is missing the wing that would have had the Takara markings. So we are still not sure about it being a real Diaclone, but I have to mention it. It does have the Missile launcher tubes and came with chrome missiles. The "White" one has the black marks on the wing sticker "Diaclone" The other grey one pictured is a real Takara Diaclone. Also not that the weapons are a different color. The grey belong to the Diaclone one while the white ones go to the white one.

Collection of: Alex Bickmore
Paragraph: Alex Bickmore
Photos: Alex Bickmore

Back To Diaclone


Back To Main Page

98/3/26