The Dungeons and Dragons toy line would have done better with the kids if it had more of a story to follow, and more playsets! Sadly enough, only one playset was produced for the Dungeons and Dragons line. The Fortress of Fangs! It was still a excellent piece, combining features of booby-traps and the treasure chest full of gold.
When we were about to get another playset for second series, the line was abruptly cancelled. With the cancellation, we lost some more figures and monsters, as well as the Snake Cave Playset. The picture shown of the Snake Cave playset was taken from a LJN catalog.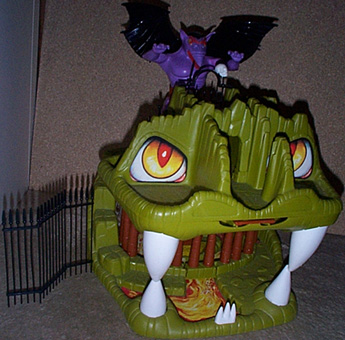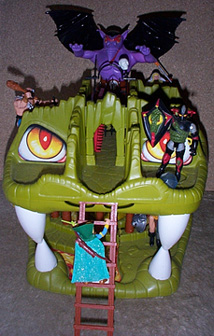 Fortress Of Fangs
The Fortress of Fangs was the only playset made for AD&D. The playset is 1' foot tall and 14" inches long. This piece was probably on every D&D kid's wish list. The playset is jammed pack with little details and walls to make the medium sized set seem bigger than it is. You can find in the playset,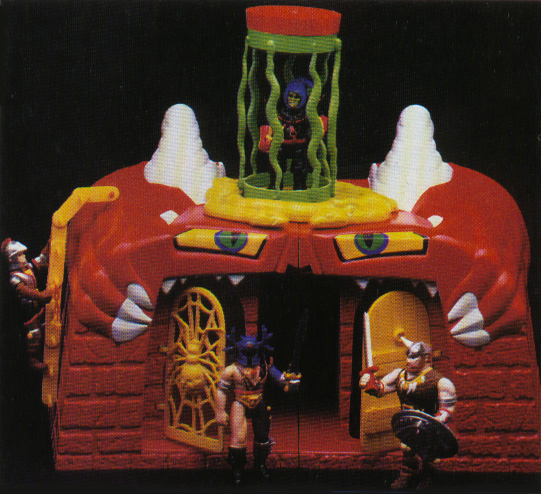 Snake Cave Playset
This is the Snake Cave Playset. It is unproduced and was going to be a playset as well as a carrying case. This piece looks spectacular! The inside of the playset is unknown since we have only this picture from the LJN catalog, but it would probably have great features like the Fortress of Fangs. We can guess what features it may have had. You can see three doorways in front, I'd probably take for granted the spider door may have led to a wall of spikes or something of a trap. The center tower could be a look out tower or a jail cell. Also included we can see Deeth climbing up a make shift ladder.
Also in front, you can see the unproduced viking, Valkeer! Another spectacular piece which was originally planned for 2nd series, but was cancelled due to unknown reasons.


Back To Main Page


Back to Dungeons & Dragons Page

1997-2000 Workings