in 1992, Matchbox took Monster in my pocket into a whole new direction. They created a new Super Creepy Collection (Series 5) and Dinosaurs Collection (Series 6). This section covers all the Dinosaurs that were produced.
These Dinosaurs were released in Europe and a few could have been released in North America. There are 24 different figures with at least 4 possible color variations on each figure. The point numbers are higher than previous MIMP toys. The numbers of each figure continue where Super Creepy left off.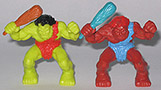 You could find the Dinosaurs in packs of 2, 6, and 12. I have heard of a 24 pack.. but I have not seen it. This 24 pack is also supposed to contain Dino Fact cards for each dinosaur.


Hardee's in 1993 sold Four different Dinosaurs as Kids Meal toys. You could get either Triceratops, Tryannosaurus Rex, Brontosaurus and Stegosaurus. Each figure had no paint and came bagged as you see below. Each figure had a card with data and really nice artwork on the front. The cards could be the same versions as the UK recieved.



Matchbox also released the Secret Skeleton versions for the Dinosaurs. These are tough and have their bones painted on the outside.
It seems every series has a special playset that Matchbox wants to produce and never does. These playsets are advertised on the back of the large boxed sets. The Dinosaurs had a Volcano Playset which looks quite nice. It probably had quite a few features and was very colorful. Was it produced?


The figures are well made and detailed. A few are in strange stances and some of the text I copied straight from the Dinosaurs sheet is a little off. A example would be the T-Rex stands only 5.5 Meters while a Triceratops stands 9 Meters!?