Variations: This Tygra is a resculpted version of the original, but is more musculor and older. This version was produced with a Willkat PVC and without one.
Another variation of the "old" Tygra is the head paint application. There are two known head's where one head is shot in orange plastic and painted over, while the other head is shot in the cream color and painted over.
A newer variation that has surfaced is a "Blood Shot" eyes Tygra. This Tygra also has his nose painted over and red eyes. We suspect it might be a European variation but little information is out there on this piece.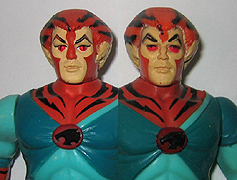 Side Notes: A tougher piece in the US but in Europe it is not that tough to find.

Back to Thundercats Action Figures Page



Back to Thundercats Page



Back To Main Page

1997-2005