Tokimeki Memorial
---
<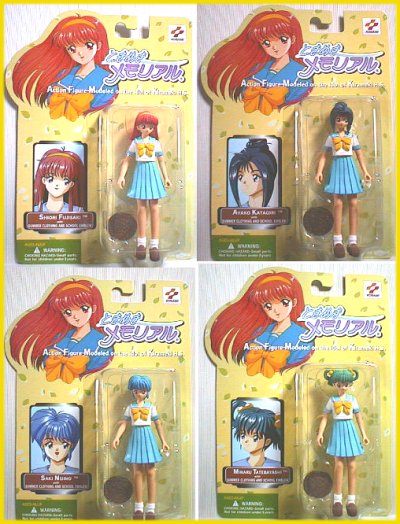 These Tokimeki figs are Japanese. They are made by Konami. Konami made the Tokimeki Memorial game. Tokimeki Memorial was the #1 game in Japan for the whole year of 1996. It is a dating simulation game. Those types of games are only available in Japan.
Anyways, these carded figures have the Konomi logo in the upper right corner. This is the collection 2 series. There was a collection 1 series, but I do not know what is it. Each carded figure has the same back of the card. At the bottom of the back of the card it says 'not for sale'. I do not know how these carded figures were made available. I got this set off of ebay and had them shipped directly form Japan.
One interesting detail about these carded figures is that the backers are remarkablly similiar to the older backers for the Star Wars POTF2 line. The Tokimeki Memorial backers are the same size as the Star Wars backers.
Please let me know if you have more information about these figures.
---
---

Collection of: Mac Bickmore
Paragraph: Mac Bickmore

Links to other sites on the Page
© 1997 [email protected]