DinoTron
Buddy L's Dinobots
These three dinosaurs that Buddy L made are probably the most outstanding of all the robots they created. Unlike many other companies producing transforming robots, Buddy L knew that Dinosaurs & Robots are a instant sell. They display well and have great detail! They stand around 3 inches tall in robot form and have no weapons or special functions. Their mode of transformation is almost is very close to the Dinobots from Transformers.
There seems to be some re-issues of the three DinoTron Dino's. It is unknown when they were released, or who produced them since they have no markings. But the stickers and quality of plastic is the same compared to Buddy L's. I'd still consider them part of the series and list them below. They are listed as "Re-Color".

---
Click here to see a Catalog picture & 3-pack boxed set.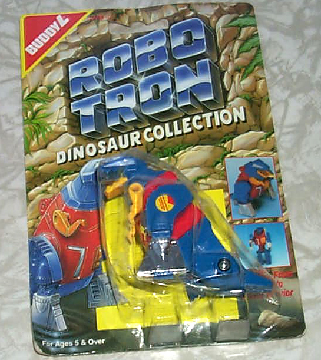 Back To Buddy L's Transforming Robots Page


Back To Main Page


98/12/12