_________________________________

_________________________________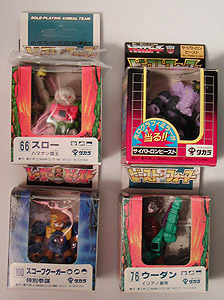 In Japan, Battle Beasts came in small boxes individually. They came in a great variety of colors and special offers. Japan also offered a great variety of Gift Packs. These Gift Packs contain a unique array of Battle Beasts that cannot be found anywhere else. These are the most desired by collectors and can fetch thousands of pennies.
Individual Boxes
Four different boxes were produced. The first versions to be produced were produced in Transformers packages. The Autobots were in red boxes, and decpeticons in purple. There were also green boxes, don't know why though. The 2nd Series packages have a "Malibu" look with that palm tree. Here the Sunburst offer started in Japan. The 3rd Series packages consisted of a forest box with a orange sky. Series 1 and 2 were re-issued for this series. You may also find some boxes with 5 weapons taped to the top. These are from the Punch Box Store Display. Laserbeasts were the final individually boxed beasts.

Gift Sets

The 10-Pack was the first gift set produced. It contained 10 figures. There is a possibility of getting one of two figures in your 10-Pack. One would be the Clear Gator figure, or the Sunburst Lion. The Clear gator is exclusive to this set, while the Sunburst Lion could possible be gotten int eh individual boxes, though your odds are against you.

The Clear Carp 6-Pack contained 6 figures. These figures were from 3rd series, as well as the Clear Carp.

The Beastformers Vs. Laserbeasts 6 pack contains both Battle Beasts and Laser Beasts. This Gift Pack is the most wanted of all because it comes with the gold chrome drill chariot, and 3 Laserbeasts that are very rare. The Skull Grotess and King-Buster could also be gotten exclsuively by Mail-Away or Prize. Salmomanther is exclusive to this set.

The Shield Battler 6 Pack contained 6 Laserbeats, as well as their shields and chariots. All 6 Laserbeasts are unique to this set and cannot be gotten anywhere else. They also come with shields that have their coat of arms on them. The shield could clip on to 1 of 2 chariots with this set. The set itself is in high demand, and is actually is one of the more commons gift packs. The reason why it is tough to locate, is because Japanese sellers want big bucks and the market dipped below their sales expectations.


_________________________________

_________________________________