_________________________________

_________________________________


Only three playsets were produced. Each playsets represented one of the three elements. The Blazing Eagle for Fire, the Shocking Shark for Water, and the Wood Beetle for (this is a toughie)... Wood. The playsets could transform from a large vehicle to a multi-level playset. The playsets were designed pretty well and folded out in rather cool ways. A variety of gun turrets were placed around each playset, as well as a jail cell. These are a bit tough to locate, and boxed ones are quite rare.
| | | |
| --- | --- | --- |
| | | |
| Blazing Eagle | Shocking Shark | Wood Beetle |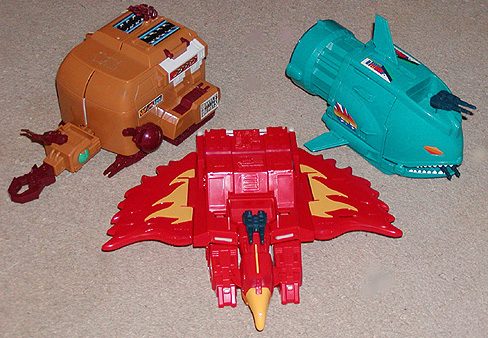 _________________________________

_________________________________

Disclaimer: This site is in no way sponsored or endorsed by the Hasbro Company, or any affiliates. The content on this page is for the exclusive use of the downloader and should not be sold, rented, or used for any commercial enterprise in any way, shape, or form. This site is created by Battle Beast collectors for Battle Beast collectors. It is not meant to step on Hasbro's toes but designed to respect their creations. 'Battle Beasts' is a registered trademark of the Hasbro Company (along with a whole host of trademarks on character, planet, vehicle, and creature names from the 'Battle Beast' universe).