Name: Zarak
Type: Evil-Half Orc Assassin

Bio:
The assassin's primary tools are the poisoned dagger, the stab in the dark, the disguise, aNnd the lesser skills of a theif. The most feared assassin is the half human-half orc one. Whose strength and cunning are that of a vile monster with the intelligence and appearance of a human.
Wanting only to profit from assassination after assassination, this being is able to appear harmless or bold and brave. No wonder they are the most feared of enemies in the dungeons and villages of the fantasy world.
Action Figure: Like all other D&D he is extremely detailed. The figure stands 3" 3/4 and is poseable in the arms and legs. He comes only with a small yellow dagger. He was released in the 1st Series and 2nd Series of AD&D.
Variations:Zarak was produced as a basic figure and a Battle Mattic. There are no other known variations.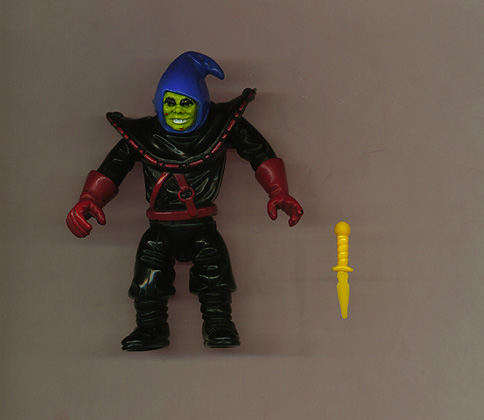 Back to Dungeons & Dragons Action Figures Page



Back to Dungeons & Dragons Page



Back To Main Page


00/5/10