Name: Zarak (BM)
Type: Evil Half-Orc Assassin

Bio:

The assassin's primary tools are the poisoned dagger, clever disguise and his great speed. The most feared assassin is the half human half orc and Zarak is the leader of this gang. He is as strong as a monster and as smart as a human. Zarak is only concerned with one thing. Money. He will fight and kill anyone for the right price.

Action Figure: Like all other D&D he is extremely detailed. The toy is 3" 3/4 inches tall and is poseable in the arms, legs and head. He has a "Battle Mattic" action with his arm. He comes only with a small yellow dagger. Zarak only came on a red card, but possibly a purple.

Variations: Battle Mattic Zarak has no known variations. His package can be found in the original "Red" and then in the later "Purple" color. I have not seen a red one yet.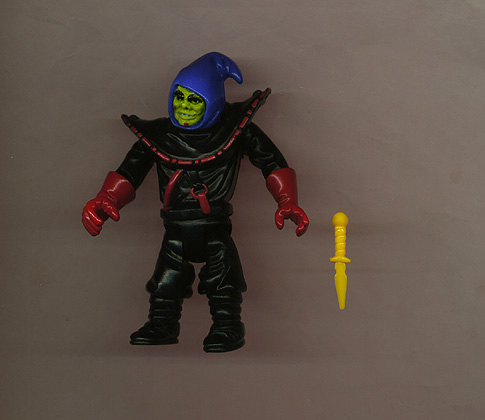 Back to Dungeons & Dragons Action Figures Page



Back to Dungeons & Dragons Page



Back To Main Page


00/5/10