Knock-Off companies love to get toys from their countries and release the were they were never produced. Alot of Bandai knock-offs have made their way to North America and probably other countries. They are of cheaper quality, but are easier for the He-Man collectors to find. Below I will picture and hopefully be able to give a brief history on some.
---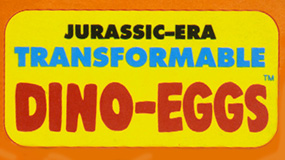 For the moment I have located only one series of Bandai transformable egg Kncok-Offs. These run by the name of "Jurassic-Era Transformable Dino-Eggs". They were produced by Thinkway Toys in Canada in 1993. By the yellow and red sticker, it seems these were sold at Walgreens stores. It is probable they were sold at other places as well. Though produced for Canada, it seems Illinois was a hub for the United States. After just visiting Canada in July 2000, I find they are still on the store racks at places like Toy, Toy Toy.
Seven of these Dino-Egss were produced. Below is the list of them with pictures.
-Cetiosaurus
-Dino Bone Stegosaurus
-Dino Bone Tyrannosaurus (MOC)
-Pteranodon (loose Pic1)
-Pteranodon (loose Pic2)
---
The Skeleton Dinosaur below is from a line yet to be found. It bears no markings and is cheaply made, but still fun. Is possible that it is the Dino Bone Stegasaurus from the Dino-Egss series.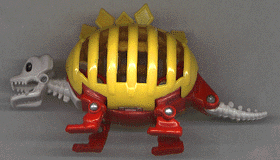 Dino-Egg Tyrannosaurus Loose: David Fowler
Rest of Collection: Alex Bickmore
Paragraph: Alex Bickmore
Photos: Alex Bickmore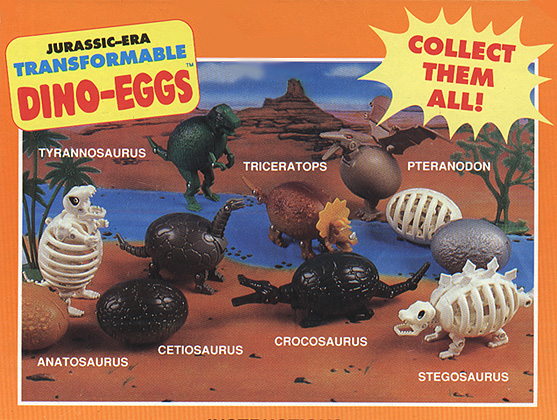 Back To He-Man


Back To Main Page



98/3/26