Gakeen originally planned to produce a Beta Fighter to go with the Alpha Fighter's they already produced. Test Shots and Salesman Samples were created in all 3 colors in Japan. But the entire project folded and they were never produced... that is until a compnay called Lansay stepped in.
Lansay a France based company, purchased a unknown amount of these Treds (Beta) Fighters and sold them through toy stores and perhaps comic shops. These Treds are all blue, and were produced in Singapore while the prototypes are marked Japan. These Treds fighters are the rarest toys to be produced for the Macross series. Only a handful have ever turned up from France. For more information, go to Macrossworld.com.
Lansay also sold the 5" Alpha Fighters in 2-Packs or one with each Treds Fighter. The Alpha's varied in colors, but the Treds was always blue. The Alpha's themselves were different by having their arms painted. See the comparison picture below.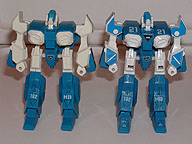 Collection of: Alex Bickmore
Paragraph: Alex Bickmore
Photos: Alex Bickmore