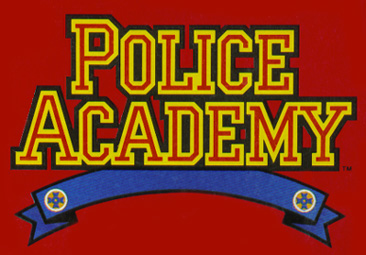 Police Academy had a grand sucess with its Movies (1-6). The series of movies have already had enough sequals and was a ending piece of the 80's. Yet, when the Cartoon series debuted 1989, it made kids squirm and keel over. The characters in the cartoon series were all based on the characters from the movies. The action figures were produced by Kenner, and were detailed to the likeness of the season lasting Police Academy cartoon series. A toy line such as Police Academy is bound to be collectible. It has a good range of figures, rarities and has link back to the nostalgia of the 80's (Police Academy Movies).
There was 3 series of figures, 2 vehicles, and a Headquarters. There were also lots of wacky items like Handcuffers & Gas Gushers. The line died as the third series came out, which were called "Special Assingment Rookies".
The gems of the this line are the last series figures. But only three really stand out. Snack-Attack house with his Hoagy Blaster was extremely limited, which is to less than 1 per every 5 cases (Unconfirmed). Another figure is the Mail-Away Captain Harris. Though the figure doesn't resemble the movie character much, it was quite tough to find since many kids did not mail away for him towards the later end of the toy line.
Another tough figure is Stakeout Sweetchuck. The figure itself was mailed to kids after Kenner ran out of Captain Harris figures. Stakeout Sweetchuck was mailed not loose, but carded. Carded examples are extremely rare to find, and price guides undervalue it as usual. These 3 figures are the most demanded of the entire line.
Though their are many unproduced vehicles for the line, the Copper Corner was actually produced in Argentina by Josca! A very cool piece and makes a lot of us wonder what other toys are out there that we originally thought were unproduced.
---
First Series (1989)
Carey Mahoney
Claw
Eugene Tackleberry
Larvel Jones
Moses Hightower
Zed: Zed MOSC

---

Second Series (1990) (Mail Away)
Flung Hi
(Orange Outfit)
Flung Hi
(Yellow Outfit)
Karate Larvel Jones
Kingpin
S.W.A.T Eugene Tackelberry

---

Spceial Assingment Rookies (Late 1990)
Sky Gliden' Zed
Stakeout Sweetchuck

---

Vehicles/Playsets(1989-1990)
Crash Crusier
Brusier Crusier (Unproduced) -------Found!--------
Copper Corner (Produced!!!!) -------Found!--------
Jail Jalopy (Unproduced) -------Found!--------

---

Accessories (1989-1990)
Gas Gushers

---

1997-2000