_________________________________

_________________________________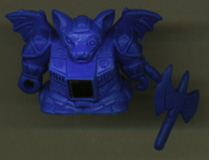 These Battle Beasts are quite cute! They could only be found in vending machines & candy boxes in Japan. When you purchased one from a vending machine, you got between 1-3 in a egg container. The candy boxes offered only 2 toys, but a nifty backdrop and trading card as well.
Only 20 different SD Battle Beasts were produced . A small pamphlet also comes with picturing quite a number of them. They came in Red, Blue and Green colors. The rub symbol work and they each have a weapon attached that could fit in their hands. The weapon that is given isn't the correct one, and you must find the right one attached to another figure. This was done on purpose to give some color to them. Just like the figures, they are also numbered. The weapon number never matches the beast. Even the Beasts have new numbers as you can see! There is also a hole at the bottom of them so you can place them atop your pencil or pen. Quite neat!
Way below is the folded out pamphlet that came with these premiums. The pamphlet is double sided.
Click Here To go to the Japanese Novelty section to see the candy boxes from Meiji and Takara that contained these Deformed Beasts.

#1: Pirate Lion
#2: Colonel Bird
#3: Prickly Porcupine
#4: Sawtooth Shark
#5: Danger Dog
#6: Hare Razing Rabbit
#7: Sir Sire Horse
#8: War Weasel
#9: Bloodthirsty Bison
#10: Bighorn Sheep
#11: Web Slinger Spider
#12: Crusty Crab
#13: Killer Carp
#14: Blitzkrieg Bat
#15: Gruesome Gator
#16: Sly Fox
#17: Squirely Squirrel
#18: Sabre Sword Tiger
#19: Killer Koala
#20: Zealot Zebra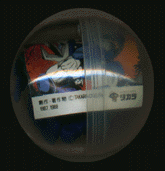 _________________________________

_________________________________