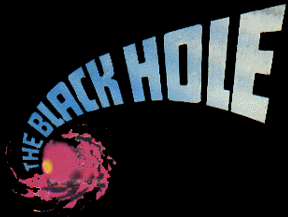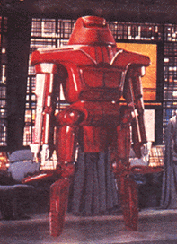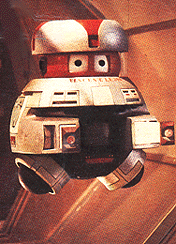 The Black Hole movie has got to be the weirdest thing that Disney ever created. This movie was a Sci-Fi that was dark and bleak. A total NON-Disney theme. In this movie, the unlovable V.I.N. Cent robot (floating trashcan, Cousin of R2-D2) helps his human explorers escape a brilliant mad man, who has been studying a huge black hole and wishes to venture inside of it. There are some superb robot villians which the Dr. Reinhardt created. Maximillian, who we wish would cut the Palomino crew to shreds, and S.T.A.R. who is cool but we pity since V.I.N. Cent beat him. The movie was a wannabe Star Wars movie from day one. Disney had toys planned, weird droids, Comics, models, ...even a V.I.N. Cent Ben Cooper costume.
Though this sci-fi movie may have been a hit or miss with kids, the toys sold well when they started to hit the shelves in 1980. The problem was there were a shortage of charachters, which Mego knew. The figures are very collectible and lasted to three series of figures, and a few vehicles. Most people have a hard time locating S.T.A.R. , Humanoid and Old B.O.B. These figures were Series 3 and could only be found in Canada or Italy.
There were some unproduced pieces for this spectacular line that are pretty exciting. There was the Cygnus Bridge Playset (quite large) and the US explorer Spacecraft Palomino (Small Pod our heroes arrive in). Both were pretty far into production, but were cancelled. Other unique unproduced pieces are the remote control Vincet and a Magnetic Old B.O.B.. Hopefully others oddities or prototypes will appear.
Black Hole Unproduced Remote Control V.I.N. Cent
Black Hole Child's Play Costume w/ Gun & Satchel (France)

Black Hole Movie Veiwer (Italy)

98/5/2