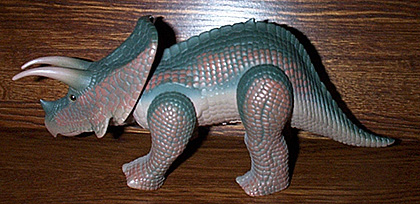 ---
The Torosaurus's parts are probably connected as one large piece, which is held to the Dinosaur by the usual blue rubberband. Sorry, I don't have any parts or a complete Torosaurus. Maybe somebody can donate pictures!
The figures each come with the usual set of Dino Rider weapons. So that is one set of these parts per a figure.
---
Click here to go back to the Torosaurus!
---
Click here to see a Fake Torosaurus!
---

Back To Dino Rider Toys

Back To Dino Riders


Back To Main Page


98/10/25