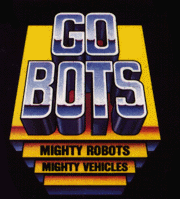 The North American GoBots line contained over 60 regular size figures produced from 1984 to 1987. They were the basic figures of the line, and all averaged in the same height. Tonka divided them into factions of Renegade and Guardian. This held true to the animated series which was a hit for awhile.

Each figure was given a GoBots number on their package. Collectors choose to go by the MR (Machine Robo) numbers that were placed on each figure. Machine Robo is the original Japanese line that was produced earlier than GoBots. Popy first produced Machine Robo, and Bandai took over quickly after Popy went under. The figures went by their numbers more than their names. Some later pieces produced for North America and Europe did not contain MR numbers, such as Bolt & Man-O-War.
Another number set was introduced midway in the series, and they were MRT. Our best guess is MRT stood for Machine Robo Tonka. These numbers ranged from MRT-41 to MRT-45. These five figures were never produced in Japan or Europe. The Monster GoBots are marked with MRD, which referred to Machine Robo Demons.
Not all the figures were produced for North America or even Europe. You will find MR number gaps in the list below. There are also gaps in the Gobots numbers, for some were never produced, like Snoop.
Tonka kept the packages consistant throughout the years. At first with art of the robot, and pictures of the vehicle. Later, they introduced art for both the robot and the vehicle on the package. Earlier figures were produced throughout the years, but Tonka never changed their cardback's.
Tonka produced hologram stickers as free a bonus with every carded figure. This started late in the final year of GoBots, and all the last series figures can only be found on cards with holograms. Tonka also re-issued many characters as they have done before, but with holograms as well. Majority of the GoBots line was re-issued with the hologram. Earlier figures like BuggyMan and Dumper were not re-issued.

Below is a text list of all the North American GoBots. You also have a choice to see all the GoBots in various galleries. You can choose your options below.


Back To Main Page