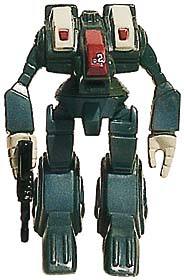 This version of the Gladiator (released in 1994 by Playmates) is hunter green in color whereas the larger version released by Playmates has more of a blue-green color.
This toy also came with a removable gun. I guess that it had to be able to defend itself somehow, since the pod in the nose can't open to reveal it's real gun.
It came packaged on a blister card with a sticker sheet and instructions.