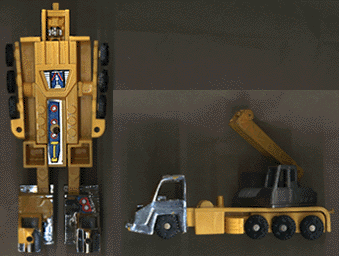 This Hook has had some wear, the feet should be yellow. Also part of the crane is missing. As you can see, Hook is still the same vehicle, but a different robot altogether almost. When all 6 Four Star constructicons (Hard Hat series) are combined toegther, they form Mr. Hardhat (Devastator) Gestalt.

Collection of: Alex Bickmore
Paragraph: Alex Bickmore
Photos: Alex Bickmore


Click here to see more Four Star Robots!!!


Click here to see more Transformers Knock Offs


Back To Transformers


Back To Main Page


98/10/17