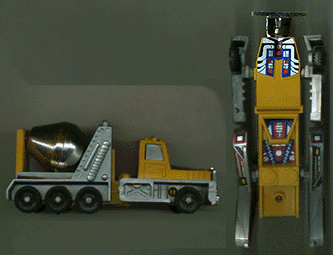 This is Mixmaster from Four Star. It looks pretty down right cheesy compared to the Insecticons they made. The transfomation is ever so simple. As a cement mixer he looks great, as a robot...pure knock off. One strange thing is that he does not carry Four Star markings. But we know he is Four Star by his shape and color. When all 6 Four Star constructicons (Hard Hat series) are combined toegther, they form Mr. Hardhat (Devastator) Gestalt.

Collection of: Alex Bickmore
Paragraph: Alex Bickmore
Photos: Alex Bickmore


Click here to see more Four Star Robots!!!


Click here to see more Transformers Knock Offs


Back To Transformers


Back To Main Page


98/10/17