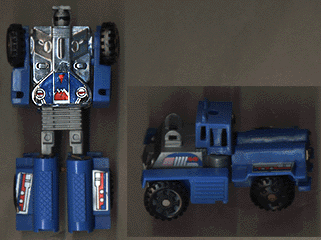 Yes, the front shovel piece is missing. But from the transformation you can see this is definitely Scavenger. Very neat piece, and looks close to his Transformers counterpart. Four Star seems to be one of few companies who actually made stickers that don't look cheasy. When all 6 Four Star constructicons (Hard Hat series) are combined toegther, they form Mr. Hardhat (Devastator) Gestalt.

Collection of: Alex Bickmore
Paragraph: Alex Bickmore
Photos: Alex Bickmore


Click here to see more Four Star Robots!!!


Click here to see more Transformers Knock Offs


Back To Transformers


Back To Main Page


98/10/17