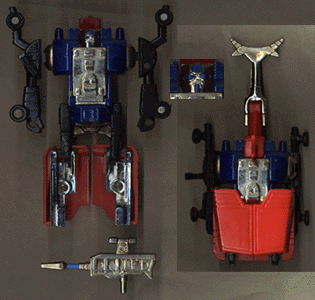 This is the regular version of Four Star's Bombshell, that transforms just like the regular Bombshell. Four Star also took the extra insect leg on Bombshell's arm, and made it possible to move! As you can see, there are many more additions to him. The gun is changed, and there are some extra features on the shell and face. This version is much more tame than the 1st version of Bombshell and the 1st version of Kickback.

Collection of: Alex Bickmore
Paragraph: Alex Bickmore
Photos: Alex Bickmore


Click here to see more Four Star Robots!!!


Click here to see more Transformers Knock Offs


Back To Transformers


Back To Main Page


98/10/17